Uruguay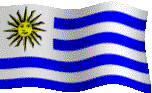 Placed like a tiny buffer between Argentina and Brazil, this is one of the smallest countries of South America. It is a little smaller in area than the state of Washington.
Long considered the most European of the South American countries, most of its people are of Spanish and Italian origin. The country has a population of about 3½ million, with 97% literacy among adults. They claim the lowest unemployment rate in South America.
Montevideo, its capital, is located on a large estuary of Rio de la Plata. Inland from Montevideo, this bay created by Rio de la Plata and a lot of tributaries is navigable to Buenos Aires on the south side of the estuary, so long as they keep it dredged.
Montevideo has a very pleasant Mediterranean climate that is similar to that of Los Angeles, California. In fact the latitude of the city in the Southern Hemisphere is the counter part of that of Los Angeles in the Northern Hemisphere.
This animated flag was provided through the courtesy of Multimedia Palace.
The map is from the CIA factbook
Click any image above to go to the next page, or use the navigation buttons below.